SDGs
Hankyu Travel International Europe
Our Commitment to SDGs
We aim for a sustainable future through our business activity of travel arrangements.

We support the Sustainable Development Goals.
Hankyu Travel International Co., Ltd. Corporate Philosophy
Create new value through the interaction of people and contribute to the development of an enriched and peaceful society.
Management Philosophy
1. We will make our customers' dreams come true through creative travel and share in their satisfaction.


The "smiles of our customers" ... that is the source of our growth.

2. We will contribute to regional revitalization and the interaction of people through travel.


"A healthy society" ... that is our wish.

3. We are a company in which each and every employee is a main player.


"Working at Hankyu Travel International" ... that is what we pride ourselves on.
We, Hankyu Travel International Europe, as a European subsidiary,
will contribute to the SDGs through three actions.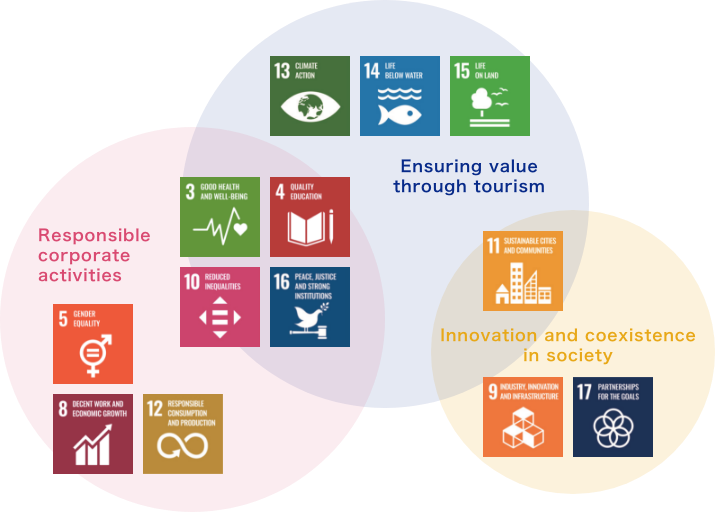 ① Our dedication to local communities by expanding travel services.

・Contributing to local employment and economic development by expanding the area of travel arrangement and introducing new accommodation and tourist destinations that are not yet widely known in Japan.

② Contributing to environmental protection.

・We promote the use of electricity from renewable energy at office.
・We promote paperless work, the use of recycled equipment and the use of non-plastic products at office.

③ We create a better working environment for our employees.

・We ensure compliance with laws and regulations, while respecting social and cultural diversity in the workplace.
・We comply with laws and regulations with our business partners to offer safe services.
Achievement
・Discovery of new destinations in Italy. Until recent years, Japanese tourists had stayed in overcrowded areas. To mitigate overtourism, we have expanded the area of accommodation in Padua, Mestre and Treviso near Venice.
・The Munich branch uses 100% of its electricity from renewable energy in Bavaria.
・The Rome, Madrid, and Munich branch dispose plastic products separately.
・Our staff have completed the training for GDPR(The EU General Date Protection Regulation)
©Hankyu Travel International Europe S.R.L.